Grilled prawns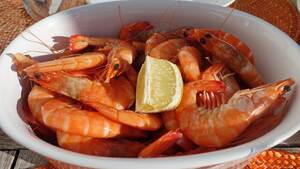 Shell-on prawns make a wonderful starter. Simply grilled and served with bread and lemon wedges is simple cooking at its finest.
Ingredients
8 shell-on prawns
1 tbsp coarse sea salt
2 tbsp olive or vegetable oil
Cooking time: 7 minutes
Instructions
1. Heat a griddle pan over a high heat, or a frying pan over a medium-high heat.
2. Sprinkle the salt over the pan.
3. Lay the prawns in the pan and cook for a couple of minutes.
4. Flip the prawns over and pour the oil over the top.
5. Cook until the prawns are completely opaque.
6. Serve with bread and lemon wedges.
Video