Crush anxiety with our 30-day challenge
Sign up now for a month of completely free coaching, no commitment
Feel less drained in 30 days
Anxiety is everywhere. We all run into it. It might hit us at work, in social situations, in our family life in just in doing our everyday things. It sucks. We beat ourselves up and stress out over trying to achieve the high standards we set for ourselves.
But what can we do about it?
We have designed a 30-DAY CHALLENGE to do just that. Say yes to yourself for 30 days and you will feel better in one month. How does it work? Find out below...
What people are saying
Jan, Canada
I really enjoyed the 30 day challenge, although before it started I was worried I would not be able to do the challenges. I decided that I wanted to challenge myself but never really knew how. So this was a good opportunity for me to do something with direction.

I loved being involved in the group, makes you feel like your not the only one with anxiety and the positive feed back. Like I had my very own set of cheerleaders.
Angela, UK
I am glad I signed up. I looked forward to finding out what you were going to challenge us to every day.
Karen, UK
It felt like a support network when you realise your not the only person suffering.
Proven to make you feel better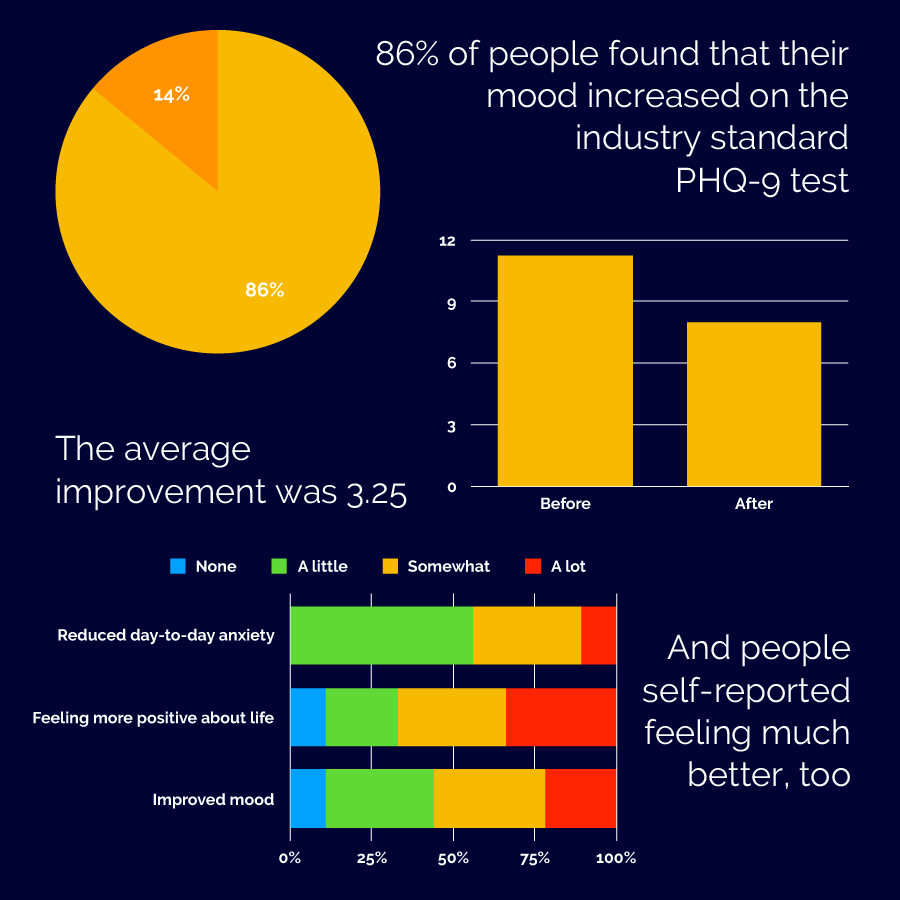 Results from our live challenge in April 2017. Click here to see the full results.
Tackle anxiety with our replay
We originally ran our challenge in April, with live support from Chris and the team. That's gone. You've missed it... But you can still take the challenge using our replay. Sign-up and start receiving challenges now.
If you are ready to commit to reducing your anxiety, we are ready to help you. We will take you step-by-step through developing good habits and taking positive steps to improve your mood and calm your racing thoughts.
It is one month to invest in yourself, delivering a lifetime of reduced anxiety.
Small steps to improve your mood
Why you should join the challenge
Why should I take part?
We understand anxiety. Because we've been there. No patronising "I know how you feel" looks: we feel the same way. The constant thoughts of dread. The tight chest, the pounding heart, the feelings of anger and frustration.
And we know what to do about it. Seriously. Read our blog. Listen to our podcast.
Or check out our free book on Mindfulness for Anxiety. It will help you apply mindfulness to your everyday life.
How does the challenge work?
1

Every day for 30 days, we will send you a new video containing a challenge.

2

Watch the video and complete the challenge when you can.

3

Post your results in the private Facebook group to receive support and encouragement from others.
What will the challenges be like?
This isn't about identifying your biggest fear and facing it head on. We focus on lifestyle and good habits to improve our mood and reduce our anxiety.
Exercise Diet Sleep Relaxation Personal growth Relationships Community Mindfulness Energy Mood Thought patterns Calm Enjoyment Goals Motivation Learning Habits Gratitude Happiness Hydration Friends
Most of the stuff in the challenge isn't revolutionary: it is a reminder of what you already know. Like taking care of yourself. You know that you should. We're here to provide a prod.
Is this challenge for me?
This challenge isn't for everyone. You SHOULDN'T take part if...
You are looking for a quick fix that will cure your anxiety overnight
You are not willing to invest any time in improving your wellbeing
You have completely given up on life
This challenge IS for you if...
You value your happiness and think it is worth fighting for
You think there is at least some chance you can change
You enjoy receiving support and encouragement from others
Your questions answered
How does it work?
We will send you a video every day for 30-days. You watch the video and complete the challenge when you can. You can share your results and successes in a private Facebook group.
How will it make me feel better?
The challenges are designed to get you doing things scientifically proven to improve mental health. Completing them will improve your mood, boost your self-esteem and allow you to share your successes with the group.
How anxiety-provoking will the challenges be?
It varies. Most will not even challenge your anxiety at all: we focus on lifestyle and using good habits to make us feel better. A few will push you a little outside of your comfort zone: it is your choice to accept each challenge or not.
What if I miss a challenge?
We're not keeping a register. If you miss some, just pick up when you get back. The more you do, the more you will get out of it.
What is the private Facebook group?
We're creating a separate Facebook group specifically for the challenge. It will be private, so non-members will not be able to see what you post.
Sign up now
Make the next 30 days the month when you take a positive step in your life. Join our challenge and say yes to yourself.
It's free!
We'll also send you some free goodies for signing up, and our weekly Live Better newsletter. We respect your privacy, and you can unsubscribe at any time.
Have questions? Email us or message us on Facebook Chat!
This site is protected by reCAPTCHA and the Google Privacy Policy and Terms of Service apply.