Mint chocolate ganache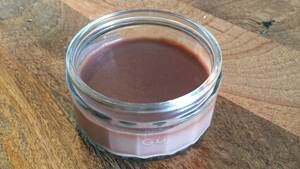 There is nothing healthy about this recipe. When it comes to treat days, though, this is a simple way to make a delicious dessert.
Ingredients
300ml double cream
200g cooking chocolate, broken into pieces (milk works well, unless you love dark)
Mint flavouring oil (optional)
Prep time: 2 minutes (plus a few hours to set in the fridge)
Cooking time: 10 minutes
Instructions
1. Place the cream in a pan and gently heat until the cream is simmering but not boiling.
2. Remove from the heat and throw the chocolate in.
3. Stir until all of the chocolate has melted and you have a smooth mixture.
4. Add the flavouring oil, if using.
5. Pour into glass ramekins and place in the fridge to set. They are done as soon as they stop wobbling.
Video