Mixed bean chilli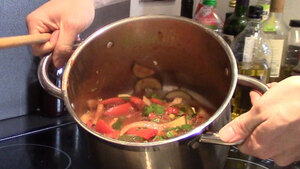 This vegetarian chilli is not only meat-free and tasty-heavy, but it also super easy to prepare.
Ingredients
Fennel, chopped
400g tin of chopped tomatoes
1 tbsp tomato puree
2 garlic gloves
150ml red wine
150ml water
Ground cumin
Red chilli, chopped
Courgette, chopped
Red pepper, chopped
400g can of mixed beans
1 tbsp sugar
Salt
2 tbsp fresh coriander, chopped
Prep time: 10 minutes
Cooking time: 40 minutes
Instructions
1. Heat the oil in the saucepan over a medium heat.
2. Add the fennel, chilli, garlic and cumin for a few minutes.
3. Add the courgette and red pepper and stir.
4. Add the tinned tomatoes, tomato puree, beans, wine, water.
5. Bring to a boil and simmer for 40 minutes.
6. Taste and add salt and pepper as required. Stir in the coriander and serve.
Video