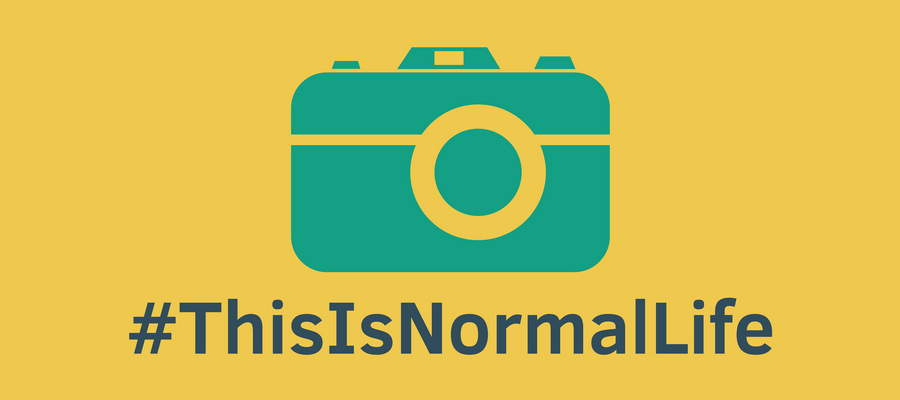 Announcing 30 Days of Normal Life (#ThisIsNormalLife)
Last year, I wrote about the negative impact social media can have on your mental health. The biggest problem? People's carefully curated posts paint an unrealistic picture of how good life is supposed to be.
When we go on Facebook, Instagram and other platforms we send an endless parade of thin people swimming with dolphins and partying with their friends. These events happen to some of us, occasionally, but the reality of every day is far more boring. It's filled with grocery shops, school runs and, if we're lucky, a glass of wine in front of the TV at the end of a long hard day.
Unfortunately, it's impossible for us not to compare our own lives to what we see on social media and feel bad about it.
So, we have decided to do something about it.
Our new campaign
This September, we're launching a new day campaign, and we're calling it #ThisIsNormalLife. Throughout the month, we're going to post boring pictures of our everyday lives, and we want everyone else to join in, too.
All you have to do is post a picture of your boring everyday life on Instagram, Twitter, or any other social media platform with the hashtag #ThisIsNormalLife.
You can also use the hashtag to view, like and comment on everyone else's photos. Together, we can paint a more realistic portrait of what real life looks like.
Will you join us to promote better mental health?
Want some reminders?
If you would like to receive email reminders throughout the month, you can join our newsletter. It's free and you can unsubscribe at any time.
See what people are posting
#ThisIsNormalLife
Related articles
Metadata
Published 28 August 2018. Written by Chris Worfolk.
Want more content like this?
Subscribe to our newsletter to get more great content emailed to you directly. Plus, we'll send you some chapters from our books for free. We never share your details and you can unsubscribe at any time.
This site is protected by reCAPTCHA and the Google Privacy Policy and Terms of Service apply.