Mindfulness wristband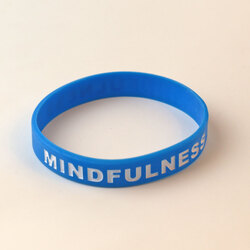 Clothing
$5.00
This product is not available to buy direct. See below for stockists.
Price in USD. Change currency.
Description
Want to be more mindful? We're always forgetting. That's why we created these mindful wristbands: a constant reminder to enjoy the here and now.
Colour
Our wristband comes in only one colour: blue. Why? Because we went out and researched the colour that produced the most calming effect on anxiety. Blue, specifically the blue we have used here, won the day.
Construction
Made of durable silicone this band will stretch around your wrist. At 202mm, it will fit even the most-well-built arms. Being made from silicone, rather than latex, there is no allergens to worry about.
Product details
| Specification | Value |
| --- | --- |
| Product code | MWB01 |
| Length | 202mm |
| Width | 12mm |
| Material | Silicone |
| Size | One size fits all |
Satisfaction or your money back
Shop in confidence with our comphrensive returns policy
Return any time within the first 30 days for a full refund
The product does not have to be in it's original condition: we want you to use it!
Digital products can be returned, too