Technical Anxiety: The complete guide to what is anxiety and what to do about it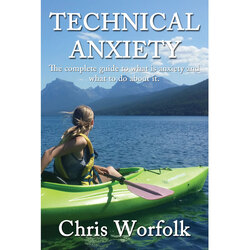 eBook
$9.99
This product is not available to buy direct. See below for stockists.
Price in USD. Change currency.
Description
Do you want to enjoy life more while controlling your anxiety? Does it prevent you from leading a "normal" life? Do you beat yourself up for failing to achieve your goals and feel like there is nothing you can do about it? If so, Technical Anxiety: the complete guide to what anxiety is and what to do about it is the book for you.

Written by Chris Worfolk, founder of mental health charity Anxiety Leeds, the book takes you through:
What is anxiety and how to better understand it
Short-term coping strategies
Treatments including therapy, drugs, mindfulness and alternative medicine
Creating an "anxiety-friendly" lifestyle through diet, exercise, learning and social relationships
Replacing the self-critical version of yourself with an encouraging, more positive one
Product details
| Specification | Value |
| --- | --- |
| Product code | TA01E |
| Pages | 226 |
| iTunes | 1169666354 |
| ASIN | B01M29RKTQ |
Satisfaction or your money back
Shop in confidence with our comphrensive returns policy
Return any time within the first 30 days for a full refund
The product does not have to be in it's original condition: we want you to use it!
Digital products can be returned, too
More places to shop
This product is available to buy at the following retailers: